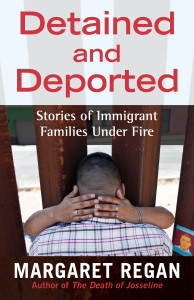 Detained and Deported is now out in paperback!
On to Albuquerque! Music! Slam Poetry!
On Saturday, June 11, I'm giving at talk at the First Unitarian Church of Albuquerque. Before my slide presentation, musician Dan Golden will play guitar and sing. Afterward, poet Damien Flores will stage a poetry slam. This will mark my first time ever sharing the stage with a slam poet! And my first time spending a few days in Albuquerque. The show begins at 7 p.m. at the church, 3701 Carlisle Blvd. NE, 87110, at the corner of Carlisle and Comanche. Local indie Bookworks will sell my books afterward and I'll be happy to sign. At noon on Sunday, June 12, I'll do a book reading at the First Congregational Church, 2801 Lomas Blvd. NE, corner of Girard. Thanks to New Mexico Faith Coalition for Immigrant Justice for sponsoring these events.
Catch me on KUNM 89.9 radio Albuquerque around 1 p.m. Saturday, June 11. I'll be speaking with host Carol Boss on the show "Women's Focus."
DETAINED AND DEPORTED: STORIES OF IMMIGRANT FAMILIES UNDER FIRE 
By Margaret Regan
A Top Pick in the 2015 Southwest Books of the Year Competition
Published by Beacon Press
From the author of the award-winning book The Death of Josseline
"Intimate and heartbreaking…For those who have been searching for an authentic look at people caught between borders, this is it."
— Publishers Weekly, starred review
"Margaret Regan has done it again. With beautiful, absorbing prose and meticulous research, she captures the intense and intimate stories of those detained, deported, and forcibly separated from their families by the most massive detention and deportation system we've ever had in the United States. A powerful and deeply moving book."
—Todd Miller, author of Border Patrol Nation
On a bright Phoenix morning, Elena Santiago opened her door to find her house surrounded by a platoon of federal immigration agents. Her children screamed as they watched their mother handcuffed and driven away. Within hours, she was deported to the rough border town of Nogales, Sonora, with nothing but the clothes on her back. Her two-year-old-daughter and fifteen-year-old son, both American citizens, were taken by the state of Arizona and consigned to foster care. Their mother's only offense: living undocumented in the United States.
Immigrants like Elena who've lived in the US for years are being detained and deported at unprecedented rates. Thousands languish in detention centers—often torn from their families —for months or even years. Deportees are returned to violent Central American nations or unceremoniously dropped off in dangerous Mexican border towns. Despite the dangers of the desert crossing, many will slip across the border again, stopping at nothing to get home to their children.
Drawing on years of reporting in the Arizona-Mexico borderlands, journalist Margaret Regan tells their poignant stories. Inside the massive Eloy Detention Center, a for-profit private prison in Arizona, she meets detainee Yolanda Fontes, a mother separated from her three small children. In a Nogales soup kitchen, deportee Gustavo Sanchez, a young father who'd lived in Phoenix since the age of eight, agonizes about the risks of the journey back.
Regan demonstrates how increasingly draconian detention and deportation policies have broadened police powers, while enriching a private prison industry whose profits are derived from human suffering. She also documents the rise of resistance, profiling activists and young immigrant "Dreamers" who are fighting for the rights of the undocumented.
Compelling and heartbreaking, Detained and Deported offers a rare glimpse into the lives of people ensnared in America's immigration dragnet.
Share